A Land of Worries?
Anonymisation is a key aspect of GDPR, and this can have implications for postcodes that cover rural or sparsely populated areas. Savvy marketers and fundraisers might be getting the fear about now, wondering if they can continue using data to inform their audience targeting. Read on to find out which Scottish local authority areas you want to take the most care with.
WHAT DO WE MEAN BY RURAL?
Although many of us have an instinct about what a rural community is, the Scottish Government have a very precise definition, which is linked to official statistical data like the Scottish Household Survey and the Census. In this context 'rural' means "settlements of less than 3,000 people".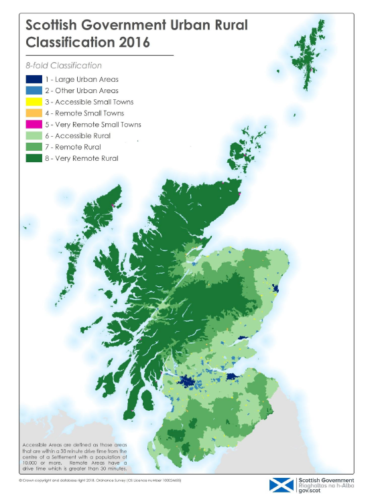 This is broken down further into 'accessible rural' and 'remote rural' communities. The latter are settlements that you have to drive over 30 minutes to get to from a settlement of 10,000 or more. Using this classification, the most remote rural areas are found in much of the Highlands, Na h-Eileanan Siar, Orkney, Shetland, Argyle and Bute and small parts of Stirlingshire and Perth and Kinross.
Previously we used to use postcodes as though they were always entirely anonymous data. In Scotland, however, there is a risk. As soon as you layer on a bit of additional demographic data, people living in postcode areas that have fewer than a handful of households could become easily identifiable.
Here's what Alison Johnston of the Information Commissioner's Office (ICO) told us:
"What you do have to be cautious about when you're working with segmentation is when you get down to very low numbers – that's when people can potentially be identified. Things like postcodes that are really rural or up in the Highlands, sometimes that postcode will only relate to one address – it doesn't relate to a street or anything like that. You need to think about the volume of data you're working with and whether or not it can make people identifiable."
You can watch our video interview with her here.
For example, imagine a postcode with only five households. In carrying out research, you discovered that the occupants of a particular household in that postcode were a man, woman and two children of particular ages. This could be enough to figure out that it's actually the Smith family, because they are the only ones in that postcode with a mix of children of those ages. Suddenly and unintentionally, you've moved from anonymous to personal data, and that's a big no-no under GDPR.
This may be of particular relevance to cultural organisations that are located in rural communities or those that are looking to tour in these areas.
WHERE IN SCOTLAND DOES THIS MATTER MOST?
Here at Culture Republic we <3 postcodes and work with them regularly in order to analyse population data anonymously. We take seriously – and want to help you to take seriously – the need to balance people's data privacy and still make use of the insights that you can get about audiences and the wider population by using applied data.
The question of identifiable postcodes may be of particular relevance to cultural organisations that are located in rural communities or those that are looking to tour in these areas and who may wish to do some audience research. If you are looking at your own data, you may want to take more caution to make sure that the data you think is anonymous isn't actually identifiable.
We carried out an analysis of the over 219 thousand Scottish postcodes and found that 2.4% (about four thousand) have only one household in that postcode. The top five local authorities where you are most likely to find postcodes with a single household are: Aberdeenshire; Dumfries and Galloway; Glasgow City; Fife; and Edinburgh City. However, when we look at the incidence of single household postcodes in a Scottish local authority proportionally (i.e. taking into account the number of single household postcodes as a proportion of the total number of postcodes in the local authority area) the top five list changes to: Dumfries and Galloway; the Borders; Midlothian; Argyll and Bute; and East Renfrewshire.
Do note – this is not exclusively a rural postcode issue. Keen readers will note that urban local authorities appeared in the list above. In our analysis we discovered many urban postcodes with only one household. This is likely because these are areas of mixed business and residential zoning that are made up of mostly businesses and only a single residence.
In order to respond to this risk we have taken the decision to, in most cases, not report at an individual postcode level. That way we don't risk anyone's anonymity. Instead we report at a postcode district (eg AB23 1) and sector (AB23) level. This also means the data is clustered into larger groups which is helpful for gaining a broader picture. We have become more careful when working with our partners to only request GDPR-compliant data.
If you'd like some help to make sure you maintain your audiences' privacy, while still being able to put your data into action, we can help. If you have any concerns about the data you hold or are looking to collect, don't hesitate to get in touch.